MyLifeID™ Product Overview
We make accessing and maintaining electronic health records simple and transparent.
The MyLifeID solution starts with its health data platform which consists of its software which can be accessed via the internet and is compatible with desktop, tablet and mobile browsers for easy use. To complete the solution and for the best protection, add the MyLifeID Pocket Cloud™.
The MyLifeID health data platform is an easy-to-use web-based application which enables users to aggregate all their health data from multiple sources into a single health record. It can track health, give doctors access to health records for faster referrals, provide protection when traveling and for use in planned and emergency situations nearly anywhere in the world.
It has room for all all medical data that makes up an individual's health record, including a broad range of test data. Consumers can manually add the information, import it from digital records provided by their doctor's office, use our integrated API or scan in paper documents. Your users will never be without critical personal data again.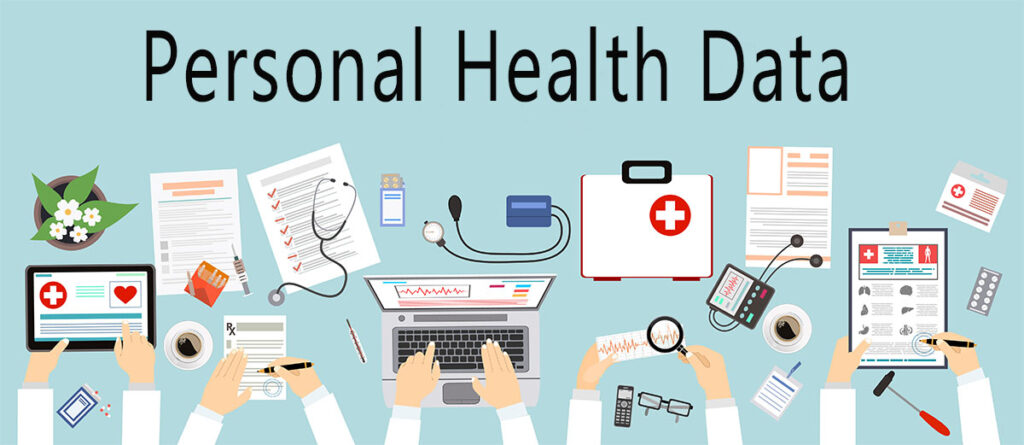 Store information such as:
Emergency Contacts
Blood Type & Donor Status
Medical/Treatment History
Immunization Records
Prescriptions
Allergies
MRI and CT scan images, X-rays, EKG, Lab test results
Having medical and health data immediately available can help in everyday situations as well as unexpected circumstances.
MyLifeID can contain the information members and clients need, when they need it the most.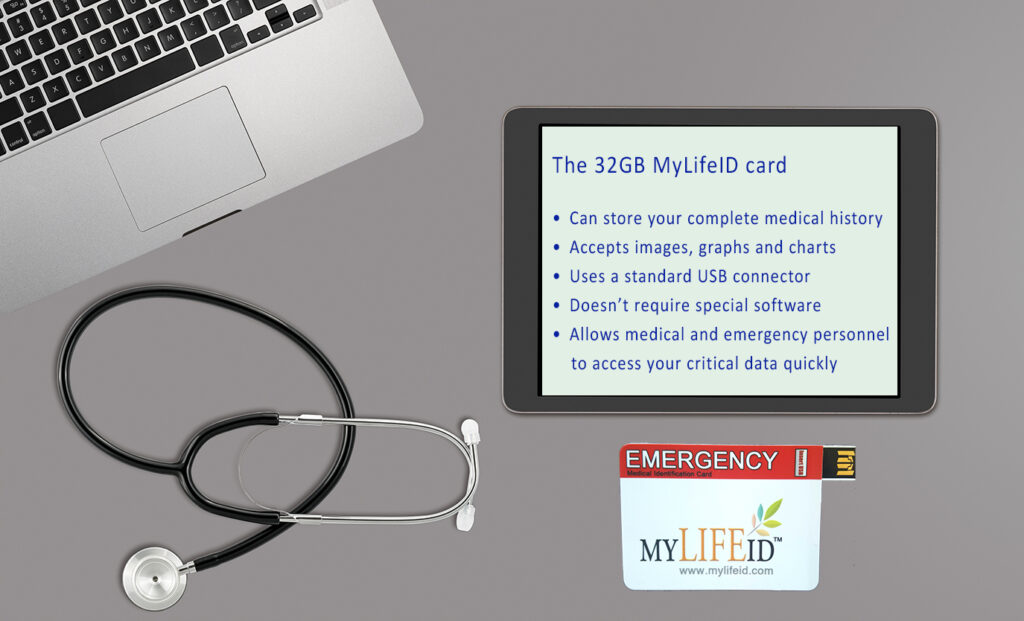 More Than Just Emergency Data
Each MyLifeID account and pocket cloud device is designed to carry and protect the health history of one user.
MyLifeID can store an individual's complete medical history going back several years (some health systems remove history older than 4 years). Multiple language capabilities make it the only portable medical record device useful from any location in the world.
Similar to emergency chips, the MyLifeID health data platform stores critical data which first responders can quickly access, giving first responders a more complete picture of their patient's health.
Benefits of the MyLifeID Health Data Platform
Emergency accessible for first responders
Works online or offline for easy access anywhere
No software installation needed to retrieve data
Supports multiple languages for global use
Synchronous archiving of data for easy backup and recovery
Privacy settings allow for control account holder control (e.g., who can see what information)
Windows and Apple compatible
MyLifeID identification card with QR code for quick access to health information
The MyLifeID™ Pocket Cloud
The MyLifeID Pocket Cloud is a fully encrypted, virtually indestructible, portable storage device specifically created to carry the most sensitive health and medical data. Designed for convenience and ease-of-use, it is the size of a credit card. Its slim profile enables it to fit in a  wallet behind the insurance card or driver's license so that first responders can retrieve it quickly in case of an emergency. Equipped with 32GB of storage, it has enough room to store a person's complete medical record in up to 5 languages without the need for an internet connection.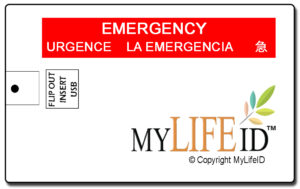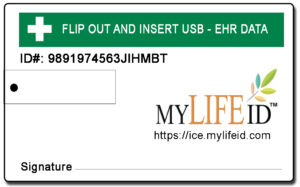 Emergency accessible for first responders, store behind  driver's license or other ID
Works online or offline for easy access anywhere
No software installation needed to retrieve data
Supports multiple languages 
Privacy settings for access control
USB version 2.0
32GB storage
Lightweight
Credit Card Size (3.5 × 2.25 in)
Windows compatible
Virus resistant
No additional software needed
Burn feature for protection in case of loss
Access digital health records in just a few moments. Log in or plug in the MyLifeID card to any USB 2.0 port, or log into the online portal and the interface will open. After entering personal credentials, users can choose to view their data, enter information or request medical records through any of our integration partners. We also include an import/export option allowing for the exchange of data with other health systems and technologies, without manual entry!
Supported Integration
MyLifeID exchanges data with over 7600 health systems, including: 
Medicare
OpenEMR
FollowMyHealth
Allscripts
MyChart
Scan and upload paper files
Upload images, charts and other information formats